October 7, 2010
The new Power Policy Settings in ESXi 4.1
Since the upgrade to VMWare's ESxi 4.1, I have been curious as to how the newly added power policy settings would affect both system power usage and relative performance. This short post will look at how the various power settings affect my specific setup during idle time, with a follow-up post looking more closely at power usage and performance during a typical video encoding job.
These new settings can be reached from the VSphere client;
Configuration -> Power Management -> Properties.
Power Usage at Idle
I began my testing by checking the top three settings at idle. (I decided not to even mess with the custom settings.) The ever useful Kill A Watt load meter was used to measure the server's power draw. The beauty of these settings are they can be changed on the fly, and the effects seen immediately.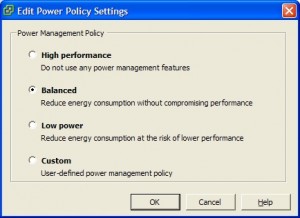 Results
As you can see in the chart below, the Balanced setting reduced the power usage by almost 15%. The Low power setting didn't appear to make any further savings. In my specific situation, where the machine will be essentially idle 95% of the time, saving 15% is a big deal. I have the server set to Balanced now, and will enjoy the feeling of saving a few cents an hour on the power bill.
My next post will look at power utilization during a test video encoding job, as well as testing how much adding addition vCPUs to the virtual machine affects performance.