August 21, 2015
As I've mentioned in previous posts, all the data on my network is backed up daily, with external and offsite backups updated manually. I've mostly neglected the boot drives of my three Win 7 PCs. I've toyed with a few different (free) backup products the last couple years, but nothing I decided to stick with. A few weeks ago a situation came up on the family PC that made me revisit the topic. The product I decided to test out was Veeam Endpoint.
We use Veeam at the office for backing up our virtual machines. It is fast and reliable. I had every reason to expect the same from their free product.
I created a new SMB share on on OMV pool, and named it 'Backups'. I used this share as the target for each of the machines.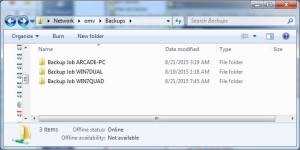 Installation and initial configuration was a breeze. I created a restore disk, per their recommendation, which took about ten minutes. I selected their 'Volume-level backup' option and picked the C drive for each desktop, and staggered the nightly runtimes. The default 14 day retention seemed fine to me. Then I started off the initial (Full) backup.  The full took about twelve minutes for the two regular Win 7 machines (the Arcade PC took longer as it had all the games on the C drive).  Quite quick.  Veeam certainly applies compression as the end backup was quite a bit smaller than the drive it was protecting.
Fast forward a couple weeks and the folder looks like below. The entire fourteen day backup set is just 25GB, protecting 40GB of data on the boot drive. Very impressive.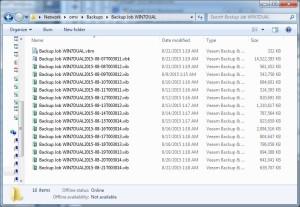 The nightly run times are very fast.
Veeam Endpoint has been running the past sixteen days and all seems fine. I have attached a backup set and could see all the files within. Had I needed to, files could have been restored, or copied, from the backup back to the physical PC. The restore screens look very familiar to a user of the enterprise Veeam product at the office. I have confidence that if the need arises in the future, that the backups will be there to restore from.